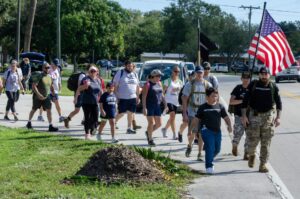 #DoYouGiveARuck? and Valor 4 Veterans, the charitable fundraising arm of Valor Healthcare, are proud to announce that a jointly hosted ruck march on November 12 raised $41,000 for the Coalition for Attainable Homes. All funds raised at the event, named Operation Bedrock, will be directed toward Coalition for Attainable Homes' new housing and rehabilitation projects for Veterans.
In recent years, "rucking," or the act of walking or hiking with a weighted rucksack or backpack based on military training and maneuvers, has become a popular form of exercise. In a new twist on the age-old charitable walk, Operation Bedrock involved participants completing a 5K course around Dyer Chevrolet in Fort Pierce while wearing their weighted rucksacks.
#DoYouGiveARuck? and Valor Healthcare had participants fill their rucksacks with non-perishable food, hygiene supplies, and non-breakable baby items donated to help support relief efforts for those impacted by Hurricane Ian.
In addition to those in attendance, Valor Healthcare employees from around the country participated in their own communities via virtual ruck marches that contributed to the total amount of funds raised and helped raise national awareness to the fact that some 13% of the U.S. adult homeless population are Veterans.
The ruck march was part of a day-long "Veteran Fest" that included a BBQ competition with prizes for the winning teams. Judges for the competition included U.S. Congressman Brian Mast.
Following the festivities, food and portable bathrooms, and showers were transported to downtown Fort Pierce to benefit the homeless population that resides in the area.